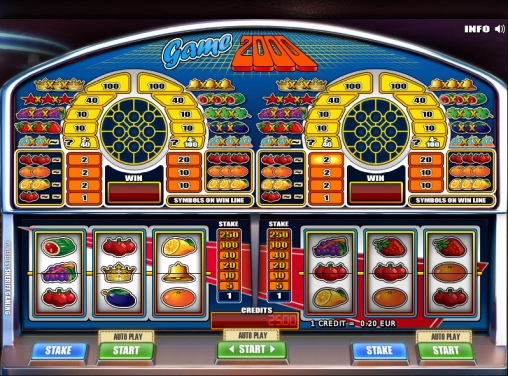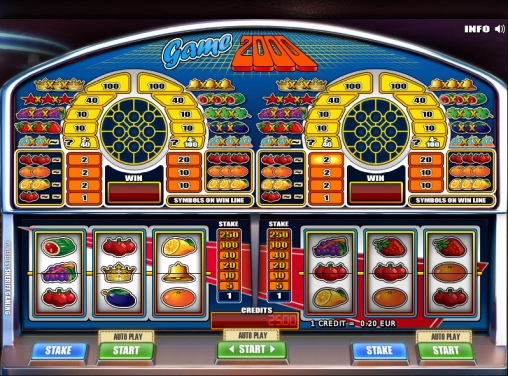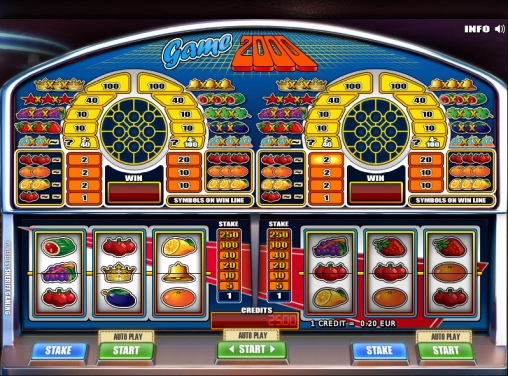 Game 2000 er en ny slotmaskin fra Sheriff Gaming. Spilleverandøren er kjent for banebrytende 3D grafikk på spillene sine. Game 2000 følger i samme grafikksjanger, og er en ikke-progressiv slotmaskin med 3 hjul og 1 gevinstlinje. Spillet er av den klassiske typen, en såkalt fruktmaskin, med alle klassiske detaljer som terninger og selvfølgelig fargerike frukter. Alle detaljer som vekker spillelysten hos en ivrig kasinospiller er på plass i dette morsomme spillet.
Dersom doble symboler, dobbel moro og simultan spinning er nøkkelord som vekker din spillelyst, så er nok Game 2000 rette spillet for deg. Det finnes her nemlig to hjul å spille på. Du kan enten spille dem hver for seg eller samtidig. Altså dobbel moro.
Dersom du liker å satse store penger på spill kan du benytte deg av Stakes-knappen for å øke innsatsen. Men vær obs, da innsatsen stiger ganske fort. Bare seks trykk på stakes-knappen øker innsatsen til 250 kreditter. Det blir 500 hvis du skal spille på begge hjulene. Er du en storgambler vil du finne denne finessen interessant. Vil du spille med lavere summer, anbefales å overse denne knappen totalt.
Når det kommer til grafikken i spillet er den ganske typisk for fruktmaskiner med farger og flash. Blir det for mye farger for øyet å fordøye over tid, finnes en knapp for å dempe fargene. Det gjør ikke store forskjellen, men noen av bakgrunnsfargene blir erstattet med litt mildere farger for øyet, som svart og grå. Symbolene i spillet er fargerike fruktbiter: sitron, kirsebær, appelsin, jordbær, vannmelon, plommer, grapefrukt, samt stjerner, kroner og firkløver. Sistnevnte er det mystiske symbolet. Får du to eller tre av firkløverne, blir du belønnet med en mystisk premie.
I tillegg til doble spin og økt innsats, kan du også sprite opp spillet med auto play. Denne funksjonen er bra dersom du har tenkt til å spille en stund, samtidig som spillet vil gå fortere med denne funksjonen.
Game 2000 er en morsom fruktmaskin av det klassiske slaget, men med moderne og fargerik grafikk. Det har ekstra funksjoner som gjør det spennende å spille, og en ikke-progressiv jackpot som den største gulroten. Forruten jackpotten er det muligheter for mange vinn underveis i spinnene. Benytter du auto play funksjonen vil du se at vinnene kommer oftere, ikke fordi det er flere vinn, men fordi spillet går raskere. Det handler ikke nødvendigvis om utålmodighet å bruke auto play, men om effektivitet og raskere avkastning.
Spillet passer for både nybegynnere og for de som har lengre erfaring med fruktspill. Uerfarne spillere bør dog være oppmerksom på Stakes-knappen som øker innsatsen. Dette er en spennende funksjon som øker adrenalinet i og med at det spilles med høyere pengesummer, men før du vet ordet av det har du satset mer enn du kanskje hadde tenkt til. Og taper du, så taper du gjerne også mere enn du har råd til. Har du lite erfaring med funksjonen, anbefales å la denne være. Det gir deg i hvert fall mere spilletid og moro for pengene.