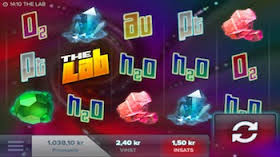 The Lab, fra svenske Elk Studios, er en online spilleautomat ment for smarttelefon eller nettbrett. Spilleautomaten har 5 hjul, 3 rader og 15 fikserte innsatslinjer. Det finnes 8 ulike symboler i spillet. Fire av dem er ulike krystaller og de fire resterende er de kjemiske symbolene for gull (Au), platina (Pt), oksygen (O2) og vann (H2O). Den høyeste gevinsten du kan få for fem stykker av et av disse symbolene er 1 000 mynter.
Spesielle symboler og bonuser
Lab-logoen fungerer som wildsymbol og kan erstatte et hvilket som helst vanlig symbol i en vinnerlinje. Dersom dette dukker opp på midten av hjul 2 vil det utløse gratisspinn. Hjul 1-3 vil da fryses og flyttes til høyre, slik at de blir hjul 3-5, og to nye hjul vil dukke opp på plass nummer 1 og 2. wildsymbolet blir værende på det som blir hjul 4. Du har også muligheten til å vinne enda flere gratisspinn under dette spillet. The Lab har også scattersymbol i form av en stor X. Denne fungerer i tillegg som multiplikator og dobler gevinsten for alle vinnerlinjer den er en del av.
Gamblingstrategier
I The Lab kan du velge imellom 3 ulike gamblingstrategier. «Leveller» vil øke innsatsnivået med 2 etter 5 tap på rad, «Booster» øker innsatsnivået med 1 for hvert tap og «Jumper» dobler innsatsen for hver gang du vinner. Hver strategi gir muligheten til å øke innsatsen til opptil 10x det du opprinnelig har satset.