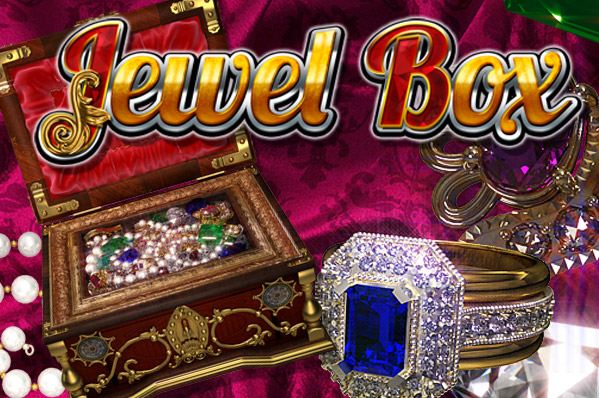 Om man kan svare svare ja på noen av de to følgende spørsmålene er dette den perfekte videosloten, kan man bli med i verden til de rike? Liker man lukten av gull? Dersom man svarer ja på minimum ett av de to spørsmålene vil man elske Jewel Box videosloten, her kan nemlig spillerne føle som om de er en av de rike og velstående.
Som mange allerede vet er det mange som ser en sammenheng mellom juveler, smykker og gull med rikdommer, noe som betyr at man ikke kan gjøre annet enn være i et fantastisk humør. Dette spillet sørger for at spillerne vil ta del i den rike og velstående delen av verden hvor man er omringet av mengder med både gull og juveler. Dette er det vel få som ville takket nei til, det er derfor ikke mye annet man bør gjør enn spinne i gang hjulene på spillet for juvelene venter nemlig ikke i all evighet.
Spillets innhold, symboler og innsatsalternativ
Dette overraskende spillet har fått tittelen Jewel Box og det er spillutviklerne hos Play N Go som står bak det. Selve videosloten kan nok oppleves som veldig simpel og enkel, men dette er definitivt noe som mange av spillerne vil sette stor pris på. Spillet er satt sammen av fem spinnende hjul, tre rader med skinnende og flotte symboler og 15 spillelinjer.
Når det kommer til de ulike symbolene som finnes på hjulene vil man selvfølgelig se en rekke ulike smykker og juveler. Blant annet vil spillerne kunne se flere ulike perler, safirer, smaragder, diamanter og rubiner. Det er en fargerik samling av en gull ring med en safir, en gullring i en litt merkelig form med en lilla juvel, hvite perler, sølv diamanter i tillegg til en rekke flotte juveler. Alle er like vakre og skinnende, med unntak av spillets ene spesialsymbol som viser en gammel brun eske.
Spillerne kan selve justere hvor mange av spillelinjene som skal aktiveres i spillet i tillegg til at de kan selv justere myntverdien og antall mynter som skal satses per spillelinje. Myntene kan ha en verdi på mellom $0,01 og helt opp til det maksimale på $0,25, mens spillerne kan satse mellom en og fem mynter per spillelinje.
Bonusrunder og andre spesialfunksjoner i Jewel Box
Denne videosloten skiller seg litt ut ifra de aller fleste andre slots, den tilbyr nemlig spesielle wildsymboler som kan dukke opp med en multiplikator på opp til 5x den vinnende kombinasjonen sin verdi. I tillegg til dette inneholder spillet et standard «gamble»-spill i tillegg til en unik bonusrunde.
Spillets helt spesielle wildsymbol er nok det som gjør at spillet skiller seg ut mest. Disse wildsymbolene kan som sagt dukke opp med en multiplikator på både 2x, 3x, 4x og 5x. Wildsymbolene kan dukke opp på første, andre og femte hjulet i Jewel Box. Når det kommer til bonussymbolene må spillerne få tre av dem på hjulene, da vil bonusrunden settes i gang hvor spillerne kan vinne gevinster på opp til 150 ganger den totale innsatsen sin.