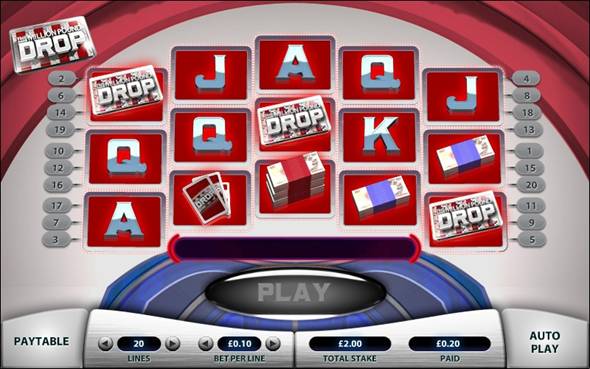 Uansett om man har noe kjennskap til The Money Drop sin TV-versjon eller ikke, vil man mest sannsynlig få glede ut av The Money Drop som slotspill. Denne spilleautomaten kommer fra spillutvikleren Endemol. Endemol er først og fremst kjent for å stå bak flere populære spill på TV, men satser altså nå på spillutvikling for nettkasinoer. The Money Drop er en av Endemols første produksjoner innen slotspill.
The Money Drop er klassisk på sitt vis, men har en veldig enkel utforming, og ikke så mye utviklet grafikk. Spillet er fortsatt godt utformet og en klassisker i sin stil. Symbolene man ser i spillet går i de klassiske symbolene fra en kortstokk, men man finner også symbolene som for eksempel pengebunker av ulike størrelser. Her er det størrelsen på bunken som avgjør hvor stor gevinsten er.
Som en typisk spilleautomat har man fem hjul med tre rader av symboler. Tilsammen har man altså 20 innsatslinjer. Her er det spilleren selv som regulerer antall linjer som skal være aktive. Innsatsen per linje er også opp til hver enkelt spiller, og den kan ligge på mellom 0,01 og opp til 10 euro per linje. Med andre ord kan man velge innsatsnivået ganske fritt.