Nextgen Gaming har vært veldig populære den siste tiden. Og det er kanskje ikke så veldig rart når man ser på de spillene de har lansert. Gjennomgående den siste tiden har de kommet med vellagde spill som er litt annerledes en resten av hurven. Super Safari er et godt eksempel på dette. Her snakker vi enkelhet og spillvennlighet på sitt beste. Vi møter en haug med komiske figurer i spillet som er morsomt tegnet – som resten av spillet også er. Her snakker vi ikke mase glorete 3D-grafikk, men noen morsomme, enkle animasjoner som ikke er forstyrrende mens du spiller. Spillet er nok ikke får absolutt alle her i verden da det er ganske spesielt. Men likevel! Det bør absolutt prøves hvis du er glad i spilleautomater. Du finner ikke alt for mye tilleggsfunksjoner eller spesialsymboler i Super Safari, men du finner det du trenger. Det ble tidligere nevnt at spillet er laget for å være enkelt. Og det hele veien. Dette er spill som skal være minimalistisk på alle nivåer.
Grafikk og tema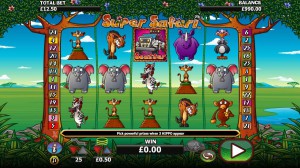 Grafikken er nok det som er mest imponerende med spillet. Den er enkel og grei,
men det er så gjennomført at man blir faktisk ganske så imponert. Karakterene som også er symbolene i spillet er morsomme, og bakgrunnen er veldig en savanne med blå himmel. Du finner alt fra modige løver – som også er wildsymbolet i spillet, apekatter, leende hyener og søre marekatter. Det er ingen kortsymboler i spillet, og godt er det da det ville bare sett merkelig ut i et ellers gjennomført spill.
Tilleggsfunksjoner og innsatser
Du har ganske så grei kontroll på hvordan du ønsker å satse pengene dine på de 25 gevinstlinjene som er i spillet. Du kan styre myntverdi, samt hvor mange mynter du ønsker å spille per linje. Du finner også en gambling-funksjon, hvor du kan doble eller helt opp til firedoble gevinstene dine.
Spesialsymboler og bonusfunksjoner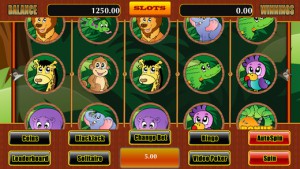 Noen av dyrene i spillet utbetaler hele 5000 mynter hvis man klarer å fem på rad av dem. Utover disse symbolene finner vi også et wildsymbol og et scattersymbol i Super Safari. Hvis du klarer å få tre wildsymboler på et spinn vil du starte en funksjon som NextGen kaller «King of the Jungle» respinn. Du får da tre gratis spinn med wildsymbolene låst alle spinnene. Ikke nok med det men en av de midterste hjulene blir også fylt med wildsymboler.
For å sette i gang bonusfunksjonen offroad safari må du få tre scattersymboler, som er en klassisk safaribil, på brettet. Når du får dette får du 10 gratisspinn med dobbel gevinst. Hvis kikkerten dukker opp blir du også kreditert med flere multiplikatorer og du kan komme deg til «super spinn»-rundene. Uansett hvilken modus du spiller i så har du også muligheten til å aktivere «Hippo Pick»-bonusen. Denne bonusen kan multiplisere innsatsen din 150, 300 eller hele 750 ganger innsatsen!
Det er kanskje ikke verdens beste spill dette, men det er veldig brukervennlig, og de funksjonene man finner er med å på underholde de fleste i lange baner – og i mange morsomme timer.